Appointment Text Reminder
Appointment Text Reminder
A recent study revealed that the U.S. healthcare system loses an estimated $150 billion annually because of missed appointments. Traditionally the major way to reduce patient no-shows is to make daily reminder calls. The daily reminder calls are not only time-consuming but also inefficient because the patients may not be available to answer the phone calls. Even if the patients answer the daily reminder calls, they may forget the exact appointment time the next day. The appointment text reminders not only save time but are very efficient. The patients can check their exact appointment time the next day via text messages should they forget. It has been proven that appointment text reminder can bring the number of missed appointments down to only 5% – quite the result of such a cost-effective solution.
The MDOS software sends daily appointment text reminders automatically at a certain time of the day. Patients can text back to confirm or cancel the appointments conveniently. Patients can also exchange a few texts with the clinic to reschedule their appointments.

A sample appointment text reminder is shown below.

The MDOS software can send the appointment reminder summary report to the provider's cellphone.

Dedicated Text Line
Besides having total control of the clinic data, another advantage of the Windows-based desktop software is the ability to exchange text messages with patients. Text communication is more and more popular nowadays. It is almost real-time and there is no need to put a patient on hold like in a phone call. No busy signals. No unanswered calls. And what's more, is that the text communication is saved into the database and can be searched and displayed at a later time.
Two-Way Text Live Chat: The providers can establish a dedicated text line for about $10 a month. They can even use the dedicated text line to do two-way text live chat with patients as shown below.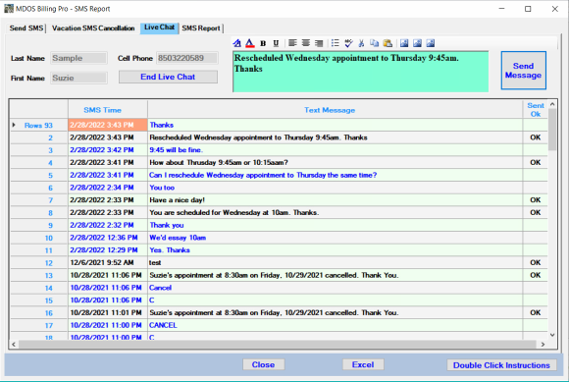 Birthday Text
The MDOS software can also send daily birthday texts automatically at a certain time of the day. Sending birthday texts on their special day is better than sending mass texts or emails to connect with patients on certain holidays. Patients that visited the clinic many years ago may come back after they receive their birthday texts.

Appointment Scheduling Module
Mass text: It is very convenient to send mass text messages to all patients. Mass text messages can also be sent to patients who have appointments in a certain date range. Emergency mass text messages can also be sent for some emergency events.
The appointment text reminder module has two-way links to the software scheduling module.