Appointment Text Reminder
Send daily appointment text reminders automatically at set times of the day. Clients can text back to confirm or cancel the appointments.
Clients can exchange a few texts with the clinic to reschedule the appointment.
As most entrepreneurs know all too well, no-shows appointments can take a toll on service-based businesses.
It has been proven that a simple SMS reminder can bring the number of missed appointments down to only 5% – quite the result for such a cost-effective solution.
So appointment text reminder is a very nice feature for your scheduling system.

The software can send the appointment reminder summary report to the provider's cellphone.

Two-Way Text Live Chat
Besides having total control of the clinic data, another advantage of the Windows-based desktop software is the ability to live text chat with clients.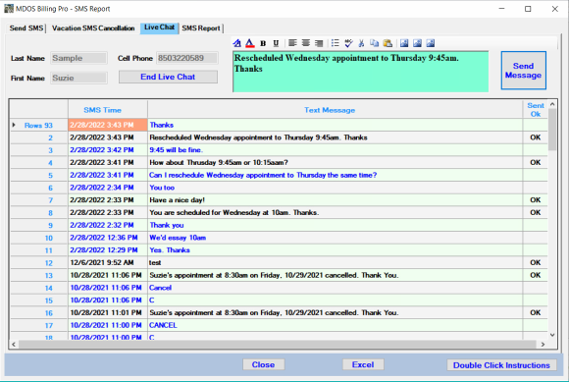 SMS Text System Links to Scheduling System
Double click the client's name in the SMS text to open the appointments for the client and change the client's appointments easily if necessary.