Electronic Real-Time Eligibility Verification (EDI 270/271)
Patient Eligibility Verification
A patient's eligibility is one of the driving elements in the healthcare industry. The amount of coverage and level of benefits is determined by a patient's eligibility with an Insurance Company. A patient's eligibility also directly impacts the amount of payment for services. Historically a patient's eligibility was verified via a phone conversation. These conversations are often limited to a "Yes/No" response of eligibility. There is a limited exchange of what the coverage and benefits detail. The Electronic Real-Time Eligibility Verification allows for a Provider of Service to obtain an in-depth detail of coverage, benefit, and eligibility from the patient's Insurance Company instantly. Inaccurate insurance eligibility verification causes more than 75% of claim rejections and denials by payers. Furthermore, refiling rejected claims cost an organization $50,000 to $250,000 in annual net revenue for every 1% of claims rejected (HFMA.org).
MDOS Billing Pro's Electronic Real-Time Eligibility Verification offers real-time eligibility checking services for a large number of commercial and government payers to help providers streamline their patient care administrative process. Eligibility results are immediate, easy to read, and contain important co-pay and deductible information. These services will allow you to determine whether a patient is eligible and what their benefits are before they even step foot into your office. No more waiting on hold with a payer or dealing with automated IVR phone systems to check a patient's eligibility benefits; saving you time and money.
Electronic real-time eligibility verification may result in the following benefits:
Reduced collection and billing costs
Decreased bad debt
Improved cash flow
Increased productivity and efficiency
Fewer rejected claims
Less time spent on manual, administrative tasks
Expedited reimbursement
EDI Eligibility Verification vs. Web-based Eligibility Verification
The EDI eligibility verification is the third most utilized transaction in the healthcare industry, after claim submission and remittance advice transactions.
Most insurance companies also have some method of web-based eligibility verification. However, web-based eligibility is driven by checks done at the point of service. Also, most web-based eligibility verification does not provide greater detail of benefits than that of the EDI eligibility verification.
Patient Insurance Eligibility and Benefits Inquiry
Use the Electronic Eligibility and Benefits Inquiry (EDI 270) transaction to inquire about the health care eligibility and benefits associated with a subscriber or dependent.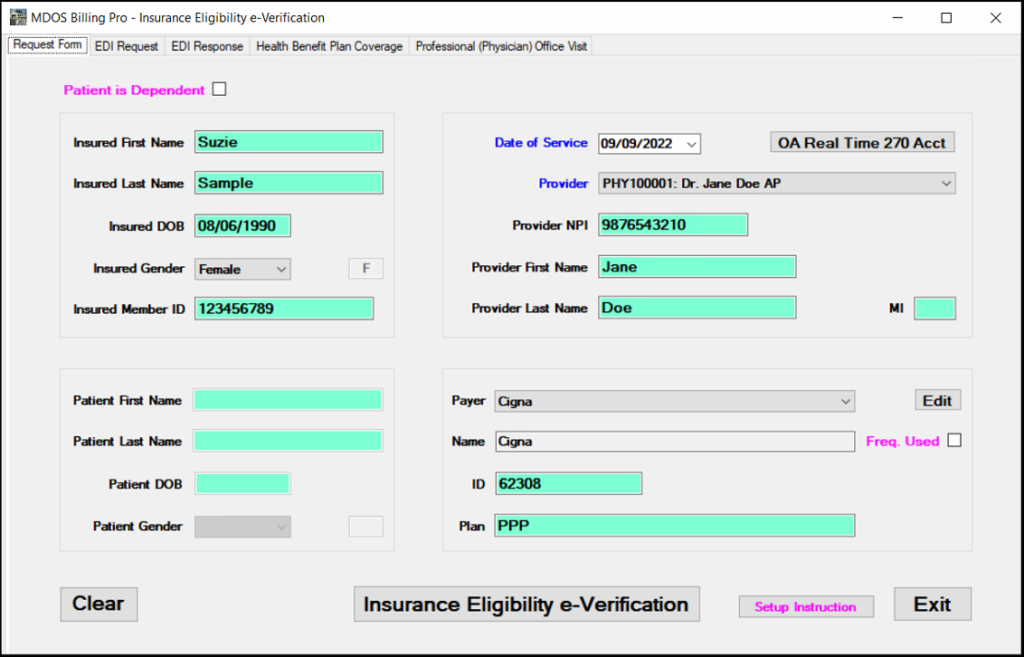 Patient Insurance Eligibility and Benefits Response
The Electronic Eligibility and Benefit Response (EDI 271) transactions are used to respond to a request inquiry about the health care eligibility and benefits associated with a subscriber or dependent.
MDOS Billing Pro provides simple, practical, efficient, and cost-effective real-time single-patient insurance eligibility verification. Caution: Except for some Cigna plans, electronic eligibility and benefit response (EDI 271) does NOT provide information if the patient has acupuncture coverage or not.
A response from the health plan to a provider about the patient's eligibility and benefits includes the following, which is saved into the MDOS system automatically and can be viewed at a later time.
Member ID number
Date of Coverage
Copayment
Co-Insurance
Limitations
Year-To-Date Deductible amount
Year-To-Date Out of Pocket amount
Acupuncture Coverage (for Cigna plans)