Insurance Electronic Billing with EDI 837P
MDOS Billing Pro is Windows-based desktop software and runs on Windows 7, 8, 10, or 11 for small businesses that can have total control of their medical data and send electronic medical claims.
MDOS Billing Pro allows physicians, practitioners, and other medical providers to electronically submit claims to a clearinghouse with 837P files generated in our system.
The claim files are combined and bundled into one file, uploaded to a clearinghouse, then routed to various payers electronically, as shown below.

Initial visit claims are generated easily from the customized pre-built CPT Claim templates. Subsequent new claims are generated conveniently by changing the service date.
All the 95 thousand ICD-10 Codes are loaded into our system and updated annually. We provide billing support to claims rejected/denied by the payers.
Paper Form CMS-1500 Claim Submission
Occasionally some claims have to be sent traditionally in paper form. MDOS Billing Pro allows you to print your CMS-1500 red form on white paper.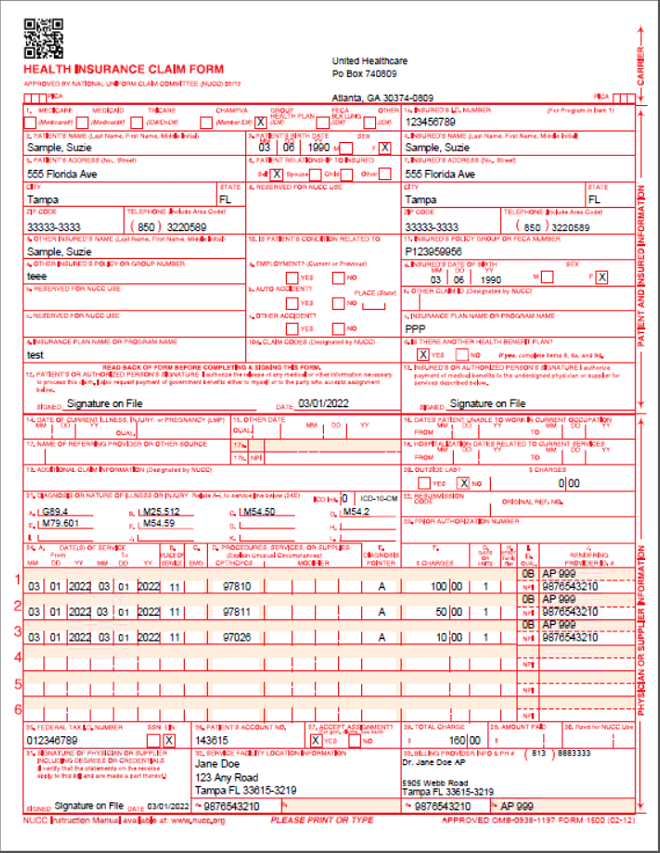 Superbill and Inventory
MDOS Billing Pro also allows to create and print Superbills. The users don't have to use two systems: One for insurance billing patients and the other for cash patients.
Superbills work with the inventory system seamlessly and can check out products with a barcode scanner or product name.